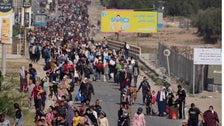 WASHINGTON (AP) — The White House said Israel has agreed to put in place four-hour daily humanitarian pauses in its assault on Hamas in norther Gaza starting on Thursday, as the Biden administration said it has secured a second pathway for civilians to flee fighting.
President Joe Biden had asked Israeli Prime Minister Benjamin Netanyahu to institute the daily pauses during a Monday call.
U.S. National Security Council spokesman John Kirby said that the first humanitarian pause would be announced Thursday and that the Israelis had committed to announcing each four-hour window at least three hours in advance.
Biden also told reporters that he had asked the Israelis for a "pause longer than three days" during negotiations over the release of some hostages held by Hamas, though he ruled out the chances of a general cease-fire.