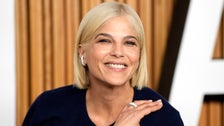 Selma Blair put the spotlight on leading disability activists during the Glamour Women of the Year Awards on Tuesday.
While the actor was there to be honored for her own advocacy, she used her red carpet moment to recognize other women fighting for a more fair and accessible world.
Blair, who was diagnosed with multiple sclerosis in 2018, paid tribute to seven female disability activists by wearing a one-of-a-kind cardigan over her lacy dark blue Isaac Mizrahi gown.
The sweater's designer, cashmere couturier Lingua Franca, noted on Instagram that the piece was hand-embroidered with the names of Alice Wong, founder and director of the Disability Visibility Project; Sinéad Burke, an Irish writer and activist; Keely Cat-Wells, disability rights activist and CEO of Making Space; Maria Town, president and CEO of the American Association of People with Disabilities; Andraéa LaVant, founder of LaVant Consulting, a disability-focused strategy and communications firm; and KR Liu, head of brand accessibility at Google.
The bespoke piece also included the name of the late Judy Heumann, whom Lingua Franca described as "the mother of the disability rights movement."
Blair spoke about disability being an avenue for human connections while accepting the 2023 Daring to Disrupt Award later in the evening.
"It's been an amazing journey because now I have come to think of disability as an olive tree whose branches extend to find a light in each other, to offer peace and hope and healing," she said, according to Glamour.
"Disability crosses all divides. It knows no borders. It is part of being alive, a great peace offering. If we are blessed enough to age, we all become disabled. It is my great honor to be part of a community of women who disrupt everyday."