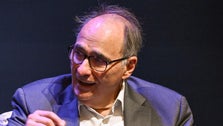 Democratic strategist David Axelrod walked back remarks this weekend in which he seemed to suggest that President Joe Biden should reconsider his bid for reelection after a new poll showed former President Donald Trump leading in five key swing states.
Axelrod, a key architect of Barack Obama's presidential campaigns, first sparked controversy on Sunday after posting the results of a New York Times/Siena poll that indicated Biden is trailing Trump in many need-to-win states in a potential match-up for the 2024 election. But the strategist insisted Tuesday that he wasn't calling for Biden to drop his bid.
"It's overreacting to say I told him to drop out," he told Politico. "I didn't do that. He's the only one to make the decision. And if his decision is 'no, I'm the best person to take this on,' then he will."
In his initial remarks Sunday, Axelrod said the poll would send "tremors of doubt" through the Democratic Party, adding the results were not "'bed-wetting,' but legitimate concern." The poll came out with a year to go before the next presidential election, when such surveys are less reliable.
"The @POTUS is justly proud of his accomplishments," he wrote on X. "Trump is a dangerous, unhinged demagogue whose brazen disdain for the rules, norms, laws and institutions or democracy should be disqualifying. But the stakes of miscalculation here are too dramatic to ignore."
"Only @JoeBiden can make this decision," the strategist added. "If he continues to run, he will be the nominee of the Democratic Party. What he needs to decide is whether that is wise; whether it's in HIS best interest or the country's?"
The comments drew fury from some in the Biden orbit. Former White House chief of staff Ron Klain said Axelrod was "still at it" after criticizing Biden in 2019 before his presidential victory.
"We appreciate his thoughts," Andrew Bates, who serves as White House deputy press secretary, told Politico of Axelrod's remarks.