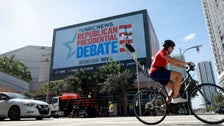 WASHINGTON ― The debate stage for the 2024 GOP presidential nomination is down to five names, the Republican National Committee announced Monday, with coup-attempting former President Donald Trump still refusing to participate.
Former New Jersey Gov. Chris Christie, Florida Gov. Ron DeSantis, former South Carolina Gov. Nikki Haley, businessman Vivek Ramaswamy and South Carolina Sen. Tim Scott all met the criteria for Wednesday night's third debate of the primary season.
The two-hour encounter is to start at 8 p.m. at the Adrienne Arsht Center for the Performing Arts in downtown Miami.
The requirements to make the stage have ramped up gradually over the past months, from 1% in polls and 40,000 individual donors for the first debate; 3% and 50,000 for the second; and 4% and 70,000 for the third.
The fourth debate, set for Dec. 6 in Tuscaloosa, Alabama, will require 6% polling and 80,000 unique donors.
Eight candidates participated in the first debate in August, and seven in the second. Former Arkansas Gov. Asa Hutchinson failed to qualify for the second event.
North Dakota Gov. Doug Burgum and former Vice President Mike Pence were on stage for the second debate at the Reagan Library in California in late September, but will not be present Wednesday. Pence dropped out of the race late last month, and Burgum did not qualify.
The first two debates were sponsored by parts of the Fox empire: Fox News in August and Fox Business in September. Wednesday's will be hosted by NBC and moderated by network anchors Lester Holt and Kristen Welker. They will be joined by Hugh Hewitt of the pro-Trump Salem Radio Network.
Trump is not participating in the debates because he is far ahead in the polls and does not have to, according to top campaign adviser Chris LaCivita.
LaCivita and other campaign aides nevertheless attended both previous debates to persuade journalists covering them that none of the candidates presented their boss any concern. Wednesday night, they plan to hold a "spin room" at Trump's competing rally in nearby Hialeah, so reporters will be forced to travel there to get the Trump campaign's views on the debate that he is not attending.
Trump is under indictment in four separate jurisdictions and is facing a total of 91 felony charges. Two of the indictments are related to his actions leading up to and on Jan. 6, 2021, when he attempted to use the threat of violence and then actual violence to remain in power despite losing the 2020 election. If convicted on the most serious charges, he would face decades in prison.
He nonetheless remains the polling leader for the 2024 Republican presidential nomination.