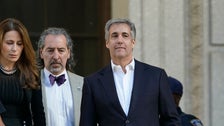 Michael Cohen, Donald Trump's former personal attorney, said the ex-president looked like a "defeated man" when he looked him in the eye on Wednesday. (Watch the video below.)
"When you looked him in the eye, what did you see?" a reporter asked Cohen afterward.
"I saw a defeated man," Cohen said. "I saw somebody that knows that it's the end of the Trump Organization."
Asked if he was intimidated by Trump, Cohen replied: "He's got the wrong guy to intimidate. As you've seen, I haven't stopped since, I don't know how many years now, and I won't, until, as I said, stop until accountability is had."
Cohen later testified that while Trump didn't explicitly order him to inflate the numbers, Trump implied it, CNN reported.
Cohen added, "He speaks like a mob boss."