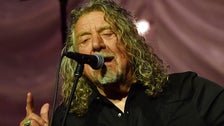 Rock legend Robert Plant stunned fans by singing "Stairway To Heaven" for the first time in 16 years during a charity show in the U.K. on Saturday night.
The Led Zeppelin frontman performed the number at a benefit for the Cancer Awareness Trust organized by Duran Duran guitarist Andy Taylor, who has been battling stage 4 prostate cancer.
Plant, 75, made the song even more poignant by changing the delivery of the final verse.
Plant's set begins at about 43 minutes into the livestream posted on Facebook, and includes a couple of other Zeppelin tracks as well as a medley built around Donovan's "Season of the Witch":
"Bet I enjoyed that more than him," Taylor said after "Stairway," likely a reference to Plant's mixed feelings about the song.
While fans consider it one of the greatest classic rock tracks of all time, Plant hasn't always shared the sentiment, saying he "can't relate" to the lyrics and at one point even pledging money to an Oregon radio station to stop them from playing it.
It's possible he's never played the song live as a solo artist until this weekend, performing it only with Led Zeppelin ― most recently at the band's 2007 reunion, 16 years ago ― and during a 1994 television appearance with Zeppelin bandmate Jimmy Page.
But there's one version of the song that's made him rethink the whole thing: The one by Ann and Nancy Wilson of Heart with drummer Jason Bonham, son of the late Zeppelin drummer John Bonham, delivered at the Kennedy Center Honors in 2012.
Plant sat in the audience with tears in his eyes.
"It was a spectacular performance. I'm now a voyeur. I'm not responsible for it anymore," he told Vulture last year. "I'm not in guitar shops being told not to do it. I'm not going down the aisle at a wedding playing it with a flute. I love the song. It came upon me and stripped away all the years of being a part of all that. It just rubbed it right back to the bone."