Yayoi Kusama, the highly regarded Japanese artist known for her trademark polka dots, has issued an apology for racist comments she made about Black people in her 2003 autobiography.
Kusama, 94, shared the apology with The San Francisco Chronicle in an article published last Friday ahead of her exhibition opening at the San Francisco Museum of Art.
"I deeply regret using hurtful and offensive language in my book," Kusama said in a statement. "My message has always been one of love, hope, compassion, and respect for all people. My lifelong intention has been to lift up humanity through my art. I apologize for the pain I have caused."
In her book "Infinity Net," Kusama wrote that Black people have a "distinctive smell" and "animalistic sex techniques." She also complained that her Greenwich Village neighborhood in New York had turned into a "slum" because of Black people "shooting each other out front," though that passage was left out of the English translation.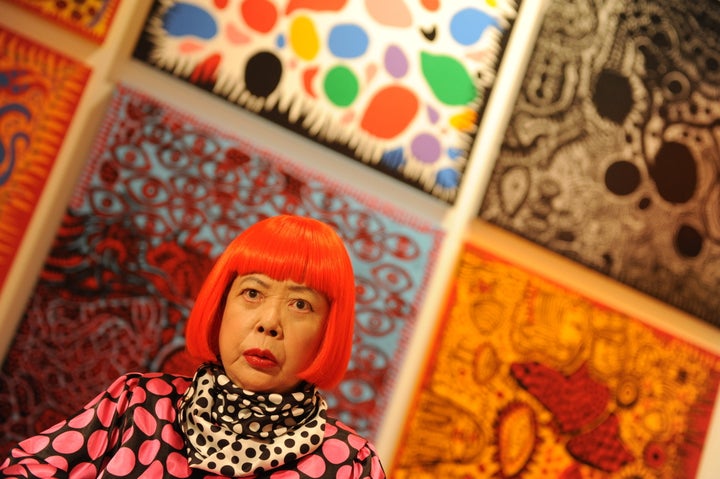 But her racist remarks were not limited to that book. A 1984 novel she wrote includes fetishizing descriptions of Black characters' smells and genitalia, and a 1971 play she authored describes the sole Black character as a "WILD-looking, hairy, coal-black savage."
Kusama's apology was apparently prompted by a column in the Chronicle published a day prior. In it, staff writer Soleil Ho reminded readers of Kusama's past racism ― an aspect of her work largely overshadowed by her large pop art installations that draw throngs of eager viewers.
Black people who've interacted with the artist called attention to her racist comments years earlier. In 2017, Dexter Thomas wrote a story for Vice News about an interview he conducted with Kusama that ended in her staff banning him and the Vice News camera crew from speaking with her. After wrapping up a brief interview with her, Thomas received an email from her staff telling him she thought his questions were "low-quality" and that he didn't understand her work.
The experience left "me wondering if my own blackness might have played some small role in Kusama's assumption that I did not understand her art and was thus unfit to interview her," Thomas wrote.