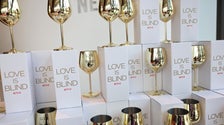 There are "Love Is Blind" Season 5 spoilers below.
"Love is Blind" Season 5 cast member Lydia Velez Gonzalez has opened up about the status of her friendship with former cast mate Aaliyah Cosby after the two were involved in somewhat of a love triangle on the Netflix dating show.
Velez Gonzalez told People in an article published Saturday that the "ship has sailed" on any chance of the two continuing a friendship in the future.
"There's a lot of hurt there. As you guys all witnessed, she formed her own conclusions even before giving me the chance to really experience myself after the cameras were gone," she said.
The reality TV star then said that she has never spoken poorly of her former cast mate but can't say the same about Cosby, who, as she suggested, has openly spoken negatively about her.
"So I wish her the best. She seems to be thriving. We are not friends anymore," Velez Gonzalez said.
During Episode 3 of the current season, another cast member, Uche Okoroha, revealed that he had a relationship with Velez Gonzalez before coming on the show.
But this caused some conflict on the show as the contestants, who initially speak to each other through a wall in rooms called "pods," are supposed to be strangers.
Furthermore, Okoroha had developed a strong romantic bond with Cosby in the pods, while Cosby and Velez Gonzalez were simultaneously developing a friendship.
Okoroha and Velez Gonzalez had kept their past connection a secret from their fellow cast members until Episode 3 due to an agreement they made with show producers during filming once they were made aware of the pair's past fling.
Cosby had left the experiment before Okoroha had the chance to propose to her in the pods. Couples who get engaged in the pods meet face-to-face and spend time together before they eventually decide whether to marry at the altar on their wedding day.
Cosby was later filmed explaining to Okoroha that a major reason why she left the show was because Velez Gonzalez had told her details about her past romance with Okoroha that she didn't want to know. She said that her conversations with Velez Gonzalez made her question the motives of her then-friend and Okoroha.
Okoroha and Cosby have since ended their relationship.
She told "Love is Blind" alum Cameron Hamilton on his "Hanging with the Hamiltons" podcast last week that she didn't believe Okorha was physically attracted to her.
The reunion episode of "Love is Blind" is slated to hit the streaming service on Sunday.