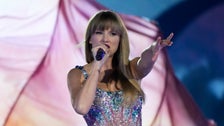 Taylor Swift's "Eras Tour" film is not only going to make theater owners lots of money, but pushing them to change their thinking on what is acceptable etiquette for customers.
Variety reported Thursday that some theater owners across the country are taking steps to make the nearly three-hour film seem as much like a real concert as possible.
This means that behaviors commonly found at concerts but often deemed annoying during screenings ― such as texting, posting selfies and dancing ― will be allowed during the movie.
"We want you to take selfies and pretend like it's a concert," Gregory Marcus, an executive at Midwest-based Marcus Theatres, told Variety, while airing some teensy-weensy concerns.
"We hope it won't get out of hand. This is new for us, too," Marcus said. "I really hope people are not standing on seats."
Other theaters are going even further. Cory Jacobson of the Midwest-based Phoenix Theatres said that while he wants customers to "maintain the decorum of any other theatrical environment," the chain did stock up on "beach balls for people to throw around the room. We're going crazy."
Parker Bowles of Cinema Labs said his theaters have doubled their cleaning crew to ensure the proper setting for the film.
"We expect to see more popcorn on the floor than carpet, to be honest — and that's great!" he said. "As long as it doesn't hurt anybody or hurt the cinema, bring it on."
Carole Skinner, who owns a theater in Boise, Idaho, said she's prepared for people to dance in screenings, but isn't sure that her state is.
"In Boise, and I think all of Idaho, bars and other places have to have a special license to have dancing," she said. "I'm not sure if they'd try to apply that to us, but I can tell you, I'm not gonna look into it!"
The Hollywood Reporter is predicting that the film could gross $200 million globally during its opening weekend.
Read the full Variety story here.