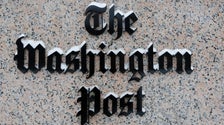 The Washington Post announced on Tuesday that it will be cutting 240 jobs by offering voluntary buyouts to its staff.
In an email sent to employees on Tuesday, interim CEO Patty Stonesifer explained that the Post had been "overly optimistic" about its subscription, traffic and advertising projections over the past two years, the news outlet said.
"The urgent need to invest in our top growth priorities brought us to the difficult conclusion that we need to adjust our cost structure now," Stonesifer said in the email, according to the Post.
The company decided to opt for voluntary buyouts, which will be offered for specific jobs and departments, as a way to avoid potential layoffs. The email did not specify which positions and departments would be offered buyouts, NPR reported. More details about the buyout will reportedly be provided during a staff meeting scheduled for Wednesday at 10 a.m.
"To be clear, we designed this program to reduce our workforce by approximately 240 employees in the hopes of averting more difficult actions such as layoffs – a situation we are united in trying to avoid," Stonesifer wrote.
The Post currently has a total of 2,500 employees, and nearly 1,000 of them work in the newsroom, The New York Times reported, so the buyouts will affect about 10% of the company's workforce. In January, the Post laid off 20 staffers and eliminated its Sunday magazine because of declining advertising revenue and readership.
The media industry has faced a record number of layoffs this year, according to Axios, with at least 17,436 job cuts announced by June. News outlets such as Vox Media, NPR and the Los Angeles Times announced plans to significantly reduce their workforces in 2023, while BuzzFeed, HuffPost's parent company, shut down its entire news division this year.