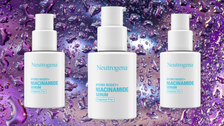 As we roll into the colder months, the humidity levels drop and our skin, less than happy about the situation, begins to dry out. Adding more moisture to your skin care routine is an obvious choice to combat this seasonal annoyance. If you're unsure what product to add to your rotation, we've found a holy grail serum that hydrates and treats a whole host of other pesky skin care troubles.
Formulated with hyaluronic acid and niacinamide, Neutrogena's Hydro Boost+ serum can help moisturize skin as well as improve texture, even out skin tone and revitalize dull complexions. The serum also promises to be free of potentially irritating ingredients like fragrances, parabens, phthalates, and dye.
Chicago-based board-certified dermatologist Dr. Caroline Robinson recently told HuffPost that thanks to the combination of niacinamide and hyaluronic acid, this lightweight serum "will not only plump, but help to strengthen the skin's moisture barrier."
At just around $17, it seems like a no-brainer try this serum that can help with a variety of skin concerns.
This moisture-rich serum has also earned a 4.7-star ranking on Walmart's website. Ahead, you can see what some reviewers had to say — or just scroll down to add this hydrating product to your cart before the cold sets in.
"This product makes my skin feel so smooth! I would recommend to anyone trying to care for dry skin!" — Anna M

"I really like how this product has made my pores in my cheeks smaller. It has also lessen the appearance of my sun spots." — Heather

"Very pleased with results as part of my AM/PM routine" — Elw

"I just love the Hydroboost jNiacinimide product. It has done wonders for my generally dry skin. It evens out the tone and clears up any blemishes. Does more for my old skin than the very expensive products. Works beter, costs significantly less- it is a winner." — Alice F.