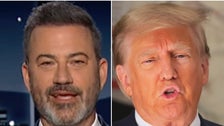 And earlier this week, he denounced the shows as they returned to TV after a five-month writers strike.
"Now that the 'strike' is over, the talentless, low rated CREEPS of Late Night Television are back," Trump wrote on his Truth Social website. "I knew there was a reason I didn't want to see it settled – True LOSERS!!!"
Kimmel fired back with a reminder of the former president's current problems.
"I love that with everything he's got going on ― running for president, 91 felony charges, a $250 million fraud trial ― he still finds time to watch his favorite late-night shows and tantrum about them," Kimmel said.
But he did give the former president some credit.
"In fairness, you can't really argue with him. The man really does know talentless loser creeps. In fact, he fathered two of them," Kimmel said, then cut to video of Donald Trump Jr. and Eric Trump.
See more in his Tuesday night monologue: