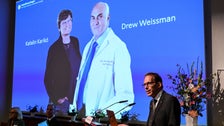 STOCKHOLM (AP) — Two scientists won the Nobel Prize in medicine on Monday for discoveries that enabled the development of effective mRNA vaccines against COVID-19.
Katalin Karikó is a professor at Sagan's University in Hungary and an adjunct professor at the University of Pennsylvania. Drew Weissman performed his prizewinning research together with Karikó at the University of Pennsylvania.
Thomas Perlmann, secretary of the Nobel Assembly, announced the award Monday in Stockholm.
The Nobel Prize in physiology or medicine was won last year by Swedish scientist Svante Paabo for discoveries in human evolution that unlocked secrets of Neanderthal DNA which provided key insights into our immune system, including our vulnerability to severe COVID-19.
The award was the second in the family. Paabo's father, Sune Bergstrom, won the Nobel Prize in medicine in 1982.
Nobel announcements continue with the physics prize on Tuesday, chemistry on Wednesday and literature on Thursday. The Nobel Peace Prize will be announced Friday and the economics award on Oct. 9.
The prizes carry a cash award of 11 million Swedish kronor ($1 million). The money comes from a bequest left by the prize's creator, Swedish inventor Alfred Nobel, who died in 1896.
The prize money was raised by 1 million kronor this year because of the plunging value of the Swedish currency.
The laureates are invited to receive their awards at ceremonies on Dec. 10, the anniversary of Nobel's death. The prestigious peace prize is handed out in Oslo, according to his wishes, while the other award ceremony is held in Stockholm.
Corder reported from The Hague, Netherlands.
Follow all AP stories about the Nobel Prizes at https://apnews.com/hub/nobel-prizes