A dog in India faced three crocodiles in a river and lived to tell the tale, thanks to what researchers suggest could've been a display of "emotional empathy" on the part of the reptiles.
In a paper published late last month in the Journal of Threatened Taxa, scientists described the surprising incident involving a dog and a trio of mugger crocodiles ― also known as marsh crocodiles ― in the Savitri River in Maharashtra, India.
In observations for a long-term study on muggers in their natural habitat, the researchers reported that a "young dog" was chased into the river by a pack of feral dogs. Waiting in the shallow water were three adult crocodiles that "could have easily devoured" the canine.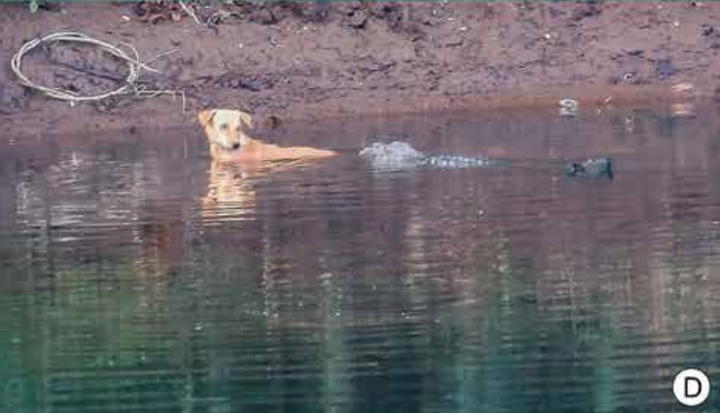 The crocodiles approached the dog, but instead of attacking, two of them guided the dog not only out of the river, but away from the bank where the aggressive feral dogs were waiting.
"These crocodiles were actually touching the dog with their snout and nudging it to move further for a safe ascent on the bank and eventually escape," wrote Utkarsha M. Chavan and Manoj R. Borkar, of India's Hazarimal Somani College and Carmel College of Arts, Science and Commerce for Women, respectively.
The researchers don't know why the crocodiles pushed the dog to safety, though they did note that it seemed the animals' "hunger drive was absent." They also speculated that the behavior could be evidence of "cross species 'emotional empathy'" in the reptiles.
That said, the researchers did note that on two other occasions, crocodiles in the river "preyed upon" stray dogs.
Elsewhere, the paper describes other crocodile behaviors they say merit more investigation. The reptiles appeared to work together to hunt fish and were seen balancing sticks on their snouts in an apparent effort to lure the birds they eat, which use sticks as nesting material.
And in one especially "intriguing" observation, the crocodiles appeared to have an affinity for marigold flowers, which are tossed into the river as part of local funeral rites. The animals regularly "floated, basked, and lay in the vicinity" of the flowers, "often with a physical contact." The researchers noted that marigolds have antibacterial properties that could be beneficial.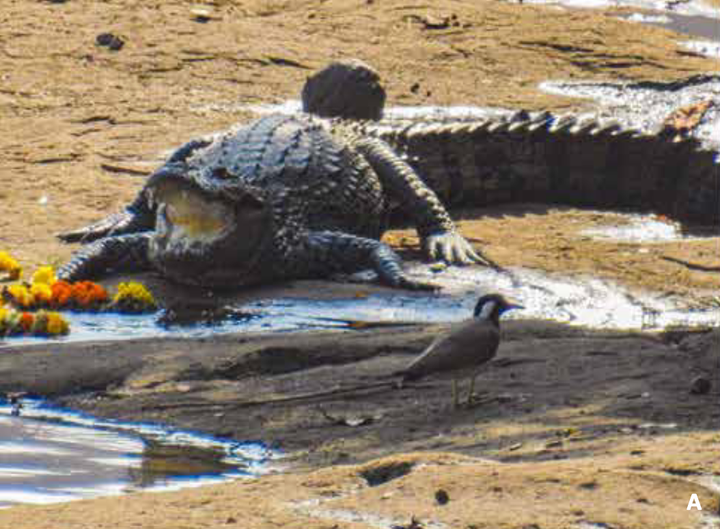 Reptile biologist Duncan Leitch of the University of California, Los Angeles, who is not affiliated with the research, cautioned against reading too much into the observations.
"Crocodilians do have a sophisticated suite of behaviors," he told LiveScience. But he warned against interpreting their behavior from an "anthropomorphic perspective" or "trying to ascribe abilities that they potentially might not have."
For their part, the paper's authors state that their observations suggest a greater need to study crocodile cognition ― and that it's possible the animals are more intelligent than people have long believed.
"Reptiles have been underestimated as far as animal cognition is concerned, perhaps due to a skewed impression that they are lethargic and at the most reflex machines … due to the small size and simple structure of their brain," they wrote in the paper's conclusion. "All in all, research in reptilian cognition hasn't progressed much due to such biases."