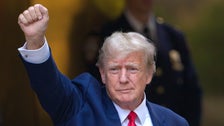 Former President Donald Trump said Wednesday that he would "absolutely" testify in his own defense if any of his criminal cases go to trial.
"That, I would do. That, I look forward to," Trump said in an interview with conservative radio host Hugh Hewitt. "At trial, I'll testify."
Trump has been indicted in four cases: a New York investigation related to hush money payments to porn star Stormy Daniels; a federal probe into his handling of classified documents after he left the White House; a federal investigation into his attempts to remain in office after he lost the 2020 presidential race; and a state case in Georgia over his attempt to overturn the 2020 presidential election results there.
Trump, who is seeking the Republican presidential nomination in 2024, has pleaded not guilty to all charges and aggressively attacked prosecutors and judges assigned to the cases.
The federal judge overseeing the federal election interference case recently set a trial date of March 4, 2024, a day before the Super Tuesday primaries. Prosecutors in Georgia said this week they believe their case will take four months, which could force Trump to spend valuable campaigning time in a courtroom.
If Trump actually took the stand, it would be a major moment for a former president and an unusual step, as defendants are generally advised not to testify in their own cases. Trump has largely resisted testifying in person in a bevy of other lawsuits, including refusing to testify at the civil battery and defamation trial brought by writer E. Jean Carroll and at his second impeachment trial, in which he was accused of inciting an insurrection.
Hewitt also asked how Trump planned to run for office and campaign around the country when he could be "sitting behind a defendant's table." The former president said he hoped it didn't reach that point, calling the investigations a "scam" and "election interference."
"We'll be asking for many dismissals of many of these fake cases," Trump replied. "These are fake cases."
Trump remains the front-runner for the GOP nomination, although he has cited his high standing in the polls to buck traditional appearances in the race, including his decision to skip the first Republican presidential debate last month.