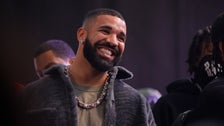 Drake is just like Thanos, but instead of rings, he's collecting bras.
The Grammy-winning rapper, who has been making his way across the U.S. on his "It's All a Blur Tour" alongside 21 Savage, went viral over the summer for joking that fans don't throw enough bras at him onstage.
Now, he's showing off just how seriously his fans took his request.
On Wednesday, the "Rich Flex" rapper, whose legal name is Aubrey Drake Graham, flaunted his massive collection of bras in various colors and sizes that he's collected from concertgoers while performing on tour.
In the Instagram post, Drake smiles like a kid in a candy store as he stretches his arms out wide while standing in front of a sea of bras behind him. He sports a sweatshirt in the snapshot with the phrase "If Assholes Could Fly, This Place Would Be an Airport" printed on it.
The Degrassi alum captioned the post, "Remember when we both forgot who the fuck I was in unison…that wavelength was def a foolish one."
To emphasize just how many brassieres have been bestowed upon him, he also shared footage on his Instagram story of his team clearing out a huge bin filled with them.
Fans on X, formerly known as Twitter, reacted over the star's bountiful collection.
Other X users were unsettled by the star holding onto the copious amounts of undergarments.
Drake first kicked off the trend of fans hurling bras at him back in July after he expressed he wasn't too pleased about receiving a measly amount of bras.
"I would just like to say before I go onto this next song, this is the first stage where I don't have no bras, and I'm deeply disappointed," the "God's Plan" crooner said in a video captured by fans at the show. "But don't start throwing shoes and phones and shit."
He added: "If you got a bra, though, just let me know that I still got it 'cause I feel like I might be having a bad show or something. I didn't see no bras tonight."