As someone who often has trouble finding jeans in his size, I'm always on the lookout for new denim brands that claim to have figured it out. I took immediate notice of The Perfect Jean when their cheeky ads began to appear on my social media feeds. The brand says it makes the most comfortable jeans in the world, and with a name like The Perfect Jean, it has to meet its claim.
I wanted to see if the hype was worth it, so The Perfect Jean sent me three pairs to test out. For this review, I tried out the Skinny Jean ($80), the Slim Fit ($80), and the Slim Thick Fit ($90). I've been wearing these jeans over the last three months and here's what I think.
What is The Perfect Jean?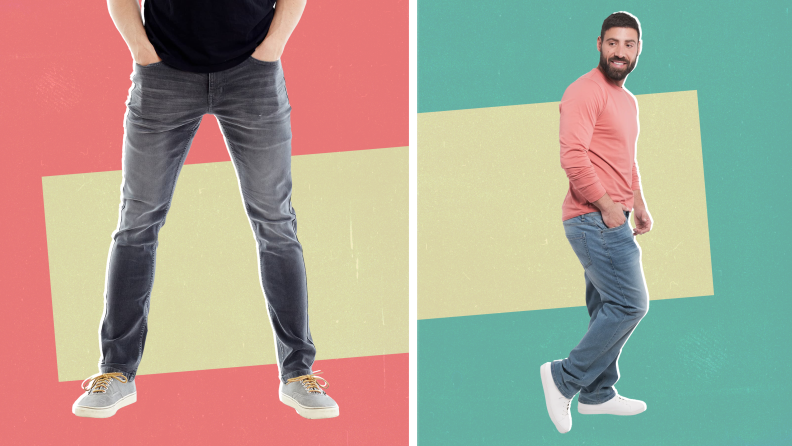 The Perfect Jean is a New York-based denim and apparel company that was established in 2019 by founders Zack Arnold and Ovadia Labaton. They offer reasonably-priced jeans in men's sizes that are comfortable enough to wear every day. The Perfect Jean currently offers six styles of jeans, each available in up to 16 different washes, from black to white and many shades in between. The brand also offers additional apparel including denim shorts, hoodies, and T-shirts.
Most notably, The Perfect Jean has an extensive and fairly inclusive size range, with most styles available in waist sizes 26 to 50 inches, in lengths ranging from 26 to 36 inches long. If the skinny leg is too thin but the athletic leg is too loose, some of The Perfect Jean's styles are even available in "Thick" variations, like their Slim Thick jeans. Most of their denim options ring in at $80 to $90, making them a premium denim brand without the luxury price tag.
Shop The Perfect Jean
What I like about The Perfect Jean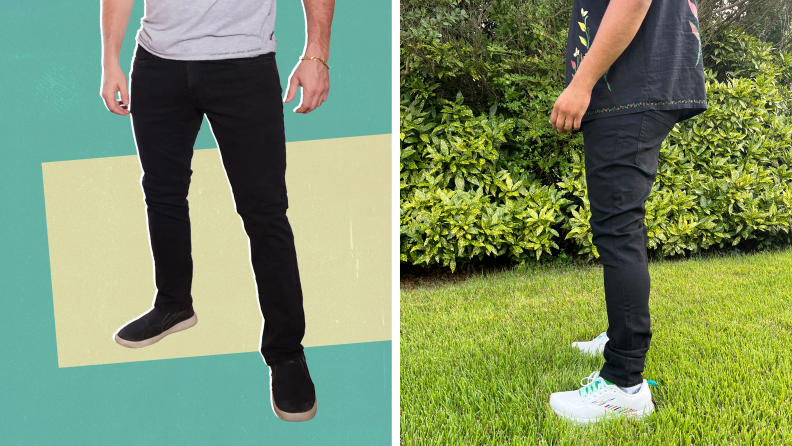 They're very comfortable
The Perfect Jean makes it very clear on their website and in many viral ads that these are stretchy jeans. The website even makes the claim that their denim "stretches so your nuts ain't crushed." Indeed, these might be some of the stretchiest jeans I've ever worn, and they're incredibly comfortable.
They're easy to move in, and unlike some jeans with a lot of elastic material, these jeans are breathable and remain comfortable throughout the day, even when the temperatures rise.
Inclusive sizing and a variety of fits
With waist sizes ranging from 26 to 50 inches, The Perfect Jean sports one of the most inclusive size ranges we've seen in men's denim. Shopping for menswear as a big and/or tall fella can be challenge, so it's great to see brands that cater to everyone. Additionally, with six different fits, most shoppers will be able to find a style that suits their tastes.
That being said, I had to send back my entire first shipment because all three pairs were bigger than expected. My suggestion would be to order one size down than your typical size, especially if you prefer your jeans on the snug side.
What I don't like about The Perfect Jean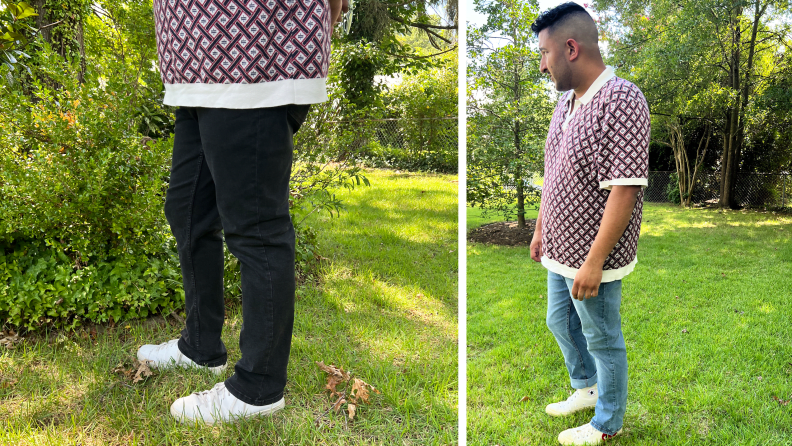 You sacrifice durability for comfort
It's true that The Perfect Jeans may have incredibly stretchy and comfortable jeans, but truth be told, when it comes to finding quality denim, stretch isn't always a good thing. When manufacturers add stretchy materials to their fabrics, it oftentimes means the jeans will degrade faster and won't last as long. The mix of materials means that the sturdy cotton will be more susceptible to friction damage and ripping, while synthetic elastic threads will naturally lose their stretch over time.
The skinny fit jeans from The Perfect Jean, for example, is made from a 64.5% Cotton, 30% Polyester, 3.5% Viscose, and 2% Spandex blend. Certainly, over the course of three months I didn't notice any loss in quality, though I worry that over the long term—a year or more—the jeans may begin to show their age sooner than expected.
Some of the options feel dated
Although The Perfect Jean currently offers six different cuts of denim, some of their fits feel like styles that would have been trendier a few years ago. Although there are still plenty of folks wearing skinny jeans and slim-fit jeans, shoppers today are also looking toward straight-fit, tapered styles, and even baggier and wide-leg options. In order to stay competitive in an already highly saturated denim market, The Perfect Jean would benefit from some updated silhouettes.
Is The Perfect Jean worth it?
Yes, for affordable men's denim with a lot of options
I really enjoyed trying out The Perfect Jean. Their denim is comfortable, affordable, and fits right into any stylish wardrobe. I don't know if I'd go so far as to say they're truly "perfect," but I'd absolutely shop the brand again in the future for some versatile and cozy styles.
Shop The Perfect Jean