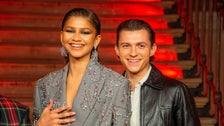 The actor was captured in an Instagram video posted on Friday throwing an assist to "Hustle" actor Elvin Rodriguez during a visit to a school in her hometown of Oakland, California.
The Emmy winner's boyfriend, "Spider-Man" star Tom Holland, also joined her for the event hosted by nonprofit organizations Hoopbus, Project Backboard, and local Oakland brand Oaklandish.
In another video, Holland is seen learning impressive basketball spinning tricks from Harlem Globetrotter player Sam Diaz.
Diaz posted the clip on his Instagram account, writing in one caption: "Who can say they taught Spider-Man some tricks."
Zendaya recently discussed her notoriously private relationship with Holland in an Elle profile published on Wednesday.
"Parts of my life, I accept, are going to be public," she told Elle. "I can't not be a person and live my life and love the person I love. But also, I do have control over what I choose to share."
She continued: "It's about protecting the peace and letting things be your own but also not being afraid to exist. You can't hide. That's not fun, either. I am navigating it more than ever now."