Connection type: 3.5mm aux, wired USB-C, USB-A (detachable)
Noise canceling: Microphone only
Supported systems: PC, Mac, Xbox Series X|S, PlayStation 5 and 4, Nintendo Switch
HyperX focused its efforts on (almost) all the important areas for the Cloud III: sound quality, microphone performance, and comfort. The result is a product that lands on the bulky side of the spectrum, but nevertheless delivers superb sound, sports a solid microphone and feels comfortable to cover your ears for long periods of time. It's not perfect, but it is a perfectly good deal for a moderately priced gaming headset.
The HyperX Cloud III's audio prowess starts with its 53mm dynamic drivers, which add sufficient bass to music and gaming alike. They don't shine as bright with midrange or high frequencies, but they do a solid enough job in each of those departments to maintain exceptional overall sound. And that's before you factor in the that the Cloud III come with DTS Headphone: X, a feature that provides simulated 3D audio specialization.
The Cloud III's microphone is a solid selling point even if it doesn't necessarily blow the competition out of the water. HyperX must have made note of the previous iteration's poor reception in the microphone department, because the Cloud III have a 10mm detachable boom arm microphone equipped with both noise cancelation and an internal mesh pop filter. The features helped to efficiently dampen outside noise while on a Microsoft Teams call or during multiplayer gameplay.
The Cloud III are heavy to wear but quite comfy thanks to a memory foam headband and leatherette ear cushions. Pair that with good sound and a much-improved microphone, and it's easy to see why the HyperX Cloud III are an excellent choice for anyone hoping to snag a pair of competent gaming headphones for just $100.
Read our review of the HyperX Cloud III.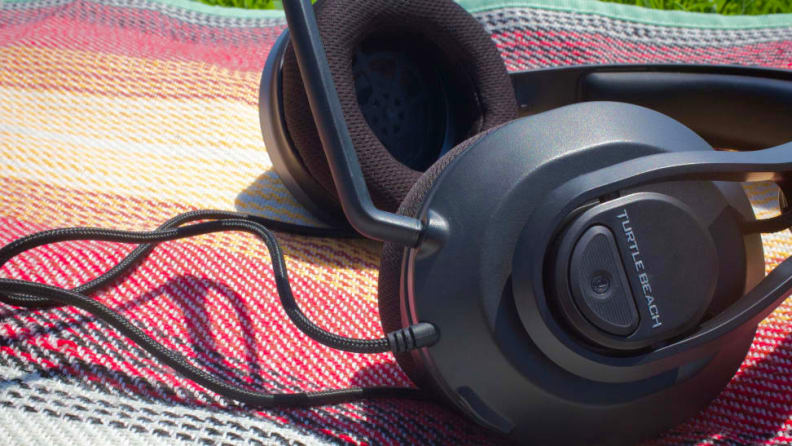 Other Top Gaming Headsets We Tested
---
How We Test Gaming Headsets
What better way to test gaming headsets than by gaming? Our team of testers spent hours playing all types of games—first-person shooters like Overwatch 2, open-world games like Red Dead Redemption 2, and party racing games like Mario Kart 8. Headsets were tested on PC, Xbox, PlayStation, Switch, and any other platforms we could get our hands on.
While playing, our testers paid particular attention to the audio quality—both how good they sounded and their soundfield's accuracy (like if we could hear an enemy sneaking around). Since group communication is an important part of team play, we also tested the clarity of the mics and how easy it is to balance chat volume with a game's soundtrack and effects.
Things to Consider When Buying Gaming Headsets
Gaming headsets typically have different priorities than headsets made for audiophiles. Even when gaming, you may want different features depending on the type of game you're playing. Once you've decided that regular headphones are no longer adequate for an hours-long session of Elden Ring, here are a few features that can help you make your decision.
Sound Quality
Are you playing games that mainly feature music? Or will hearing audio cues make or break your ability to level up? If you're playing online with friends, can you hear their instructions and comments?
If you're constantly listening for gunshots or footsteps, you may want to invest in a pair of headphones that emphasize bass tones. If you need to hear a wider variety of sounds, it's best to get headphones with a more expansive sound profile.
Microphone
A high-quality mic is key, especially if you're playing with teammates. The best microphones should cut out any electric humming or ambient noise, with vocal clarity similar to a cell phone call with great reception. Ideally, the microphone is also adjustable, so you can position it close enough to your mouth to carry your voice, but not your breathing.
Comfort
You can't really enjoy a good gaming binge if your headset starts squishing your head after only a couple of hours. The headphones should be adjustable enough to fit just right. Thick ear pads, a padded headband, and a relatively lightweight are necessities if you're going to be spending a lot of quality time in front of your TV or computer.
Noise isolation
Gaming can be a form of escapism. To ensure that you're really escaping, your headphones should block out ambient noise. This both helps you hear what's going on in the game, and keeps the outside world from distracting you.
Granted, in an emergency, you want to hear some of the outside world. But gaming headphones should be able to block out humming from air conditioners, refrigerators, and other appliances.
Cable/Wireless Connection
If your gaming headsets have a cable, it should be a long cable. (Ideally, longer than 10 feet). It may not matter as much on a computer, but when gaming on a TV, you want to be able to sit further back.
If you prefer to be cable-free, you may prefer wireless gaming headphones. Wireless headsets usually have either a USB-A or USB-C dongle that you plug in, or connect over Bluetooth. Keep in mind that wireless headphones have a battery life, and you may want to keep an eye on said battery, lest they cut out at a key point in your gaming experience.
Platform
Before you lay down cash for a pair of gaming headphones, make sure they're compatible with your game system. Some brands have different products for different platforms, while others just have a regular headphone jack that can be plugged into any system. Remember too that some features may not work equally well across all platforms.
More Articles You Might Enjoy