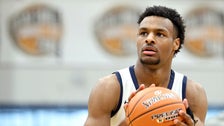 Bronny James, the eldest son of NBA megastar LeBron James, suffered cardiac arrest in July due to a congenital heart defect, his family said in a Friday statement.
"It is an anatomically and functionally significant Congenital Heart Defect which can and will be treated," the family's statement reads. "We are very confident in Bronny's full recovery and return to basketball in the very near future. We will continue to provide updates to the media and respectfully reiterate the family's request for privacy."
James, 18, was rushed to Cedars-Sinai Medical Center in Los Angeles on July 24 after experiencing the medical emergency during a practice session at the University of Southern California. He was discharged from the hospital later that week.
The teen had committed to playing at USC in May. Considered a top point guard at the high school level, he was ranked the 19th prospect by ESPN for the class of 2023. His father, who has hinted at retirement in recent months, has said he hopes to play with his son in the NBA one day.
LeBron James previously thanked the public for supporting Bronny.
"We feel you and I'm so grateful," the Los Angeles Lakers star tweeted on July 27. "Everyone doing great. We have our family togethter, safe and healthy, and we feel your love."