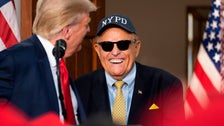 Giuliani, a former lawyer for Trump, and his own attorney Robert Costello, met Trump at his home twice in late April to "discuss Giuliani's seven-figure legal fees, making several pitches about how paying Giuliani's bills was ultimately in Trump's best interest," the news network wrote, citing a source "familiar with the matter."
Trump, who previously stiffed Giuliani for his work trying to reverse the 2020 election, was unmoved, extending a vague verbal pledge to help, the source said.
Trump did agree to attend two fundraisers for Giuliani, and one of his PACs paid $340,000 to help cover Giuliani's bill with a data storage company, according to separate sources who talked to CNN.
Giuliani is mired in legal and financial jeopardy, much of it related to Trump.
He was indicted this week for conspiring with Trump and other allies to fraudulently overturn the election results in the swing state of Georgia.
He is being sued by Dominion and Smartmatic for spreading lies that their voting services tipped the 2020 election in President Joe Biden's favor. He is also being sued for defamation by two Georgia election workers and by a former employee who says he coerced her into sex.
"There are a lot of bills he's not paying," his lawyer Adam Katz said in court on Wednesday, per CNN. "I think this is very humbling for Mr. Giuliani."