New York
CNN
 — 

Warmer and cleaner waters off the coast of Long Island, New York, in recent years have brought growing numbers of bait fish to the area — and with them, the bigger fish that eat them, including sharks. In some ways, it's a good sign for the environment. But it's a different story for swimmers, surfers and beach goers.
Safety officials at one New York beach are ramping up the use of drones to try to prevent potentially dangerous interactions between humans and sharks.
Lifeguards and New York State Park Police officers at Jones Beach — a state park that stretches 6.5 miles along the Southern coast of Long Island and sees six million visitors a year — are using the technology to monitor the waters off the shore. When they spot sharks or unusual sea life activity, they can warn swimmers to stay on the beach.
The tracking program began in 2017 but has taken on new urgency following a rash of shark attacks at New York beaches this summer. While the risk of being attacked by a shark remains low, just this week, a 65-year-old woman was hospitalized after being bitten by a shark at Rockaway Beach in Queens. The next day, lifeguards at Jones Beach closed the water three times after possible shark sightings, two of which were made with drones.
"I can't predict whether or not there's going to be more bites or shark attacks, but what I can tell you is … the more drones that are flying in the air, there's more of a chance of seeing these animals in their natural habitat," Park Police Captain Rishi Basdeo told CNN last month, prior to the latest attack (which occurred at a different beach from where his team monitors). "Just by merely warning people, that in itself is [paying] dividends," he said.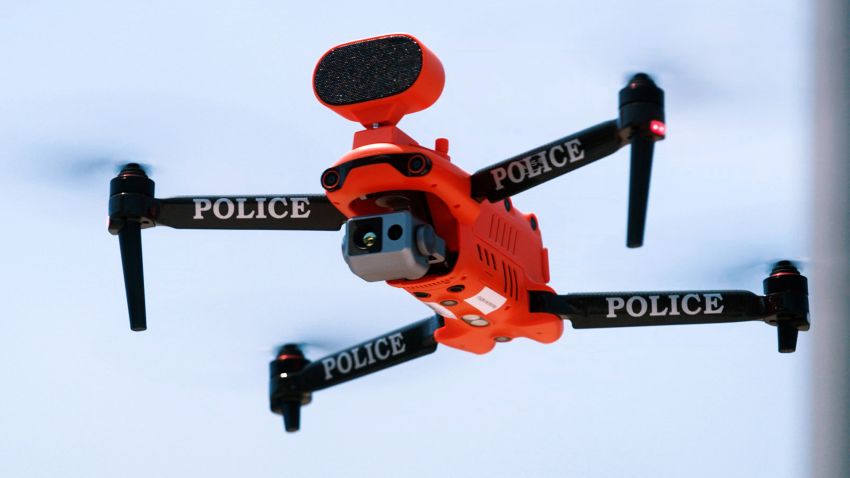 With more sharks along the beach, police are using these drones to protect swimmers
The New York State Park Police operates a fleet of 19 drones along Jones Beach, used by lifeguards with backup from officers who can do more enhanced monitoring via a mobile command center that travels up and down the beach if something unusual has been spotted in the water. Inside the command center van, officers can watch a livestream of the drone footage on a TV screen to determine if swimmers should be removed from the water.
"You're getting with the drone a real supreme aerial view of what's going on in real time on the waterway," Basdeo said, adding that if a shark is within 400 feet of the shore, officials consider closing the water. "If a shark is in close proximity to the bathing area — or even before we get schools [of fish] there — we are already making that decision … and the lifeguards will stop people from swimming and just safely guide people out of the water."
On the day last month that Park Police officers gave CNN a demonstration of the drone tracking program, the cameras picked up only a few skate fish just off the shore. But the drones — which have cameras powerful enough to see beneath the surface of the water even from about 25 feet in the air — have previously caught footage of sharks swimming solo and feeding on large schools of fish.
Operating the program is not cheap — even the more low-tech drone kits used by lifeguards to do regular monitoring cost around $6,000 each and require operators trained in Federal Aviation Administration rules, according to Basdeo. But he says it's worth it to avoid safety risks to people enjoying the beach. And, he added, "It's actually cheaper than calling in a police helicopter."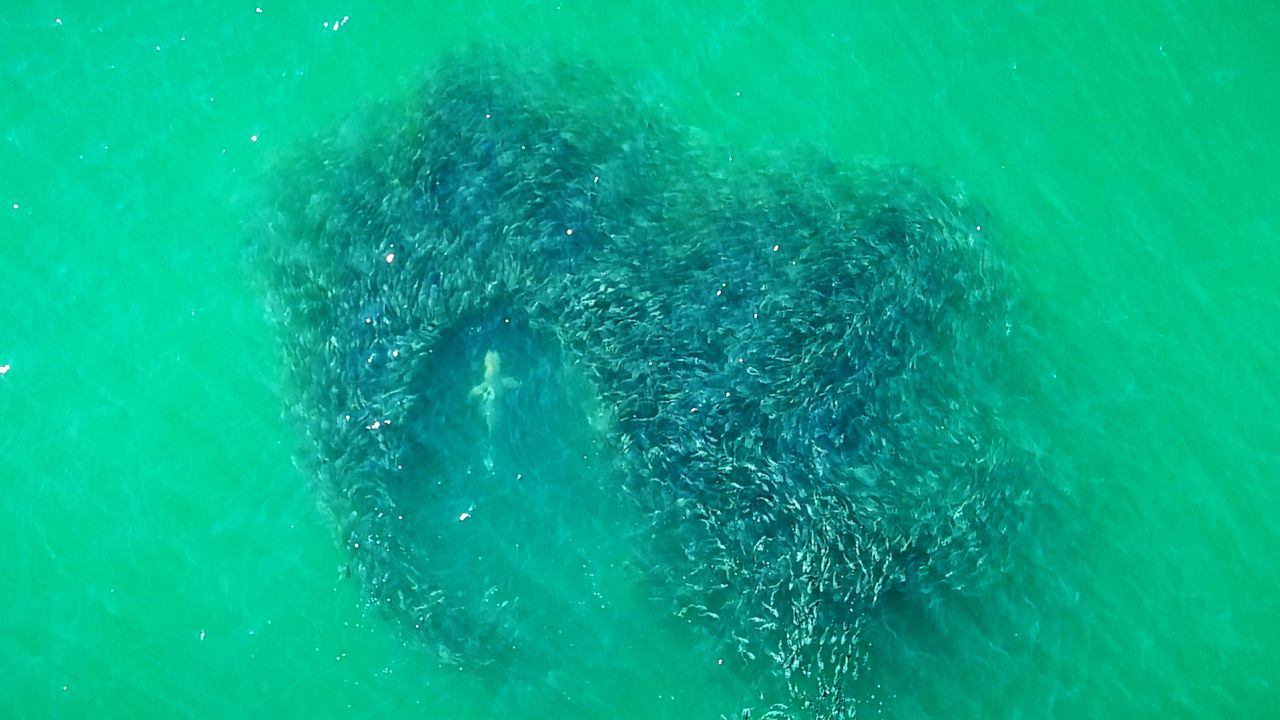 The technology has uses beyond searching for sharks, too. The drones can be augmented with an infrared camera, spotlights and speakers to help in search and rescue capacities, and could even carry a life preserver out to a distressed swimmer before a lifeguard could get to them.
For example, "If we get a report that an individual is missing at night, we have an ability aside from calling in a police helicopter … we can send our drones up and put in the infrared capability in the camera and actually see in the dark," Basdeo said. "Five years ago, we didn't have this drone capability in our agency, but now it's spreading and it's catching on."
Basdeo also stressed that the drones are used for only limited, safety-related applications.
"We're on strict guidelines when we fly and operate these drones. It is not used to surveil the public. It is used to keep them safe," Basdeo said. "We don't fly, or we try not to fly, over large groups of people. There are designated emergency lanes on the beach … where it's sparsely populated" that operators use to navigate the drones out to the water, he said.