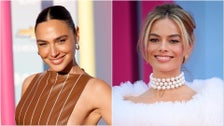 Margot Robbie's role in "Barbie" has resonated with millions of fans of the beloved Mattel doll, but the film nearly got a different leading lady: Gal Gadot.
The Australian actor, who was also a producer on the record-breaking movie, first revealed to Vogue back in May ahead of its release, that she and director Greta Gerwig first looked to the "Wonder Woman" actor to take on the role of Stereotypical Barbie.
But Gadot wasn't available to film at the time.
Gadot has since responded to being Robbie's front-runner to play the pink-powered icon. The Israeli actor gushed that she was flattered to be offered the role of the eponymous doll despite not taking it.
"I adore Margot," Gadot recently told Flaunt magazine in an interview that was held before the 2023 SAG-AFTRA strike. "Margot is one of those women who you just want to be friends with. She is so funny, warm, fun and smart and obviously so talented. She brings so much to the table. I would love to do anything with Margot and was very touched [by her comments]."
The "Heart of Stone" actor added: "She warmed my heart with everything that she said about me. I'm super excited for them, and I'm so excited for 'Barbie.'"
Gadot isn't the only star that Robbie and Gerwig tried to tap to join the massively successful film.
Gerwig told CinemaBlend before the film hit theaters that she also tried to get her "Lady Bird" actors Saorise Ronan and Timothée Chalamet to cameo in the movie, but things didn't quite pan out.
"It was going to be a specialty cameo," Gerwig revealed to the outlet. "I was also going to do a specialty cameo with Timmy. Both of them couldn't do it and I was so annoyed. But I love them so much. But it felt like doing something without my children. I mean, I'm not their mom, but I sort of feel like their mom."
With "Barbie" recently joining the $1 billion club, rumors began flying about a possible sequel, which means Gadot might have a chance to visit Barbie Land after all.
Gerwig further ignited sequel rumors after she told People she hopes the movie "is the launch of a world and a bunch of different Barbie movies."
"There's a tone and a humor and a joy, and obviously the world is so beautiful," the filmmaker added. "I want to go back to Barbie Land."