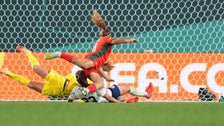 Portugal held the U.S. to a 0-0 tie at Eden Park in Auckland, New Zealand.
Only Portugal's Ana Capeta hitting the post in stoppage time prevented the tournament favorites from a historically-early exit from the competition.
The U.S. Women's National Soccer Team appreciated the role that the post played.
"BLESS THAT POST," it tweeted.
Elsewhere in Group E, the Netherlands beat Vietnam 7-0.
The Netherlands will now play the second-place team from Group G, which includes Sweden, South Africa, Italy and Argentina.
The U.S. will play the group's top team.