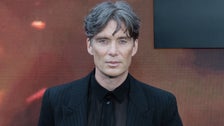 He might be "Oppenheimer," but he's happy to be just Ken.
Cillian Murphy was asked in a recent interview if he'd consider starring as a Ken in a hypothetical sequel to "Barbie," the smash hit currently driving summer moviegoers in droves alongside the Christopher Nolan thriller he stars in.
"Would I play a Ken in 'Barbie 2'? Sure, yeah," Murphy told Brazilian entertainment website Omelete. "Let's read the script, let's have a conversation."
He added: "I can't wait to see" the "Barbie" movie. "I think it's great for cinema to get all these great movies happening this summer."
His "Oppenheimer" co-stars, Matt Damon and Emily Blunt, are also very down to take part in a "Barbie" sequel.
"I'd do anything with Greta Gerwig!" both actors said.
Damon, however, was unsure if he'd be able to "out-Ken" Ryan Gosling, who stars as "Beach Ken" in the movie.
"I don't know if anybody's out-Kenning that guy," Damon quipped.
Allison Jones, a casting director for the "Barbie" movie, told Vanity Fair that a few other actors were in the cards for Ken roles, but missed out due to scheduling conflicts.
Jones said "Saturday Night Live" star Bowen Yang, "Schitt's Creek" alum Dan Levy and "Dear Evan Hansen" actor Ben Platt could have appeared in the blockbuster.
In addition to Gosling, other Ken roles went to actors Simu Liu, Kingsley Ben-Adir, Scott Evans, Ncuti Gatwa and John Cena.