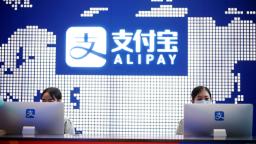 Hong Kong
CNN
 — 

Visiting China just got a whole lot easier for international travelers.
Starting Friday, visitors are able to link their Visa
(V) and Mastercard
(MA) accounts to China's most popular mobile payment platforms, allowing them to book taxis, ride the subway and pay for goods and services at millions of outlets across the near-cashless country.
The move marks a revival of efforts by Alipay and WeChat Pay to accept foreign credit cards after they provided some limited access in late 2019. The companies said previously that they were acting under the guidance of Chinese regulators, as Beijing seeks to attract foreign investment and international travelers to boost its flagging economy.
Alipay, China's largest payment app operated by Ant Group, announced on Friday that overseas users can link cards issued by Visa and Mastercard, as well as Diners Club and Discover to their digital wallets. The change takes effect immediately.
"As the Chengdu [World University Games] and the Hangzhou Asian Games approach, more and more foreign tourists have come to China, and they may need to use mobile payments for basic necessities of life," the Hangzhou-based fintech giant, an affiliate of Alibaba Group
(BABA), said in a statement.
"Athletes and tourists from all over the world can use Alipay nationwide to enjoy various convenient services such as shopping, taking taxis, taking subways, and visiting scenic spots."
A day earlier, Tencent
(TCEHY), which owns the country's second most popular payment app WeChat Pay, made a similar announcement. WeChat Pay is officially known as Weixin Pay in China.
WeChat users can now link credit or debit cards issued by Visa, Mastercard, JCB or Discover for payment at tens of millions of merchants in China, the social media and gaming company said.
China is almost a cashless society with $434 trillion in electronic transactions annually. And more than 80% of the transactions for daily consumption take place on mobile platforms, according to figures from Chinese card payment company UnionPay. Alipay and WeChat Pay are dominant in digital payment services, accounting for a combined 91% market share.
But for most foreign visitors, accessing the apps' services was previously impossible — they needed to have a mainland Chinese bank account and a local mobile phone number.
In 2019, Alipay and WeChat started allowing the use of foreign credit cards on their apps as Chinese regulators eased restrictions. But only select Chinese merchants were allowed to process the cards.
The two payment giants began to loosen those conditions in recent months as the country emerged from three years of stringent Covid restrictions.
Last month, Mastercard announced that its cardholders can "pay like a local" in China by linking their cards to the Alipay app and making cashless payments at tens of millions of merchants across the country. The move was expanding on a partnership established in 2019 between the two companies, Mastercard said.
"As travel and tourism rebound, Mastercard is delighted to partner with Alipay to enable cardholders worldwide to enjoy the ultimate in payments security, convenience, and peace of mind as they work, play, rest, and roam during their journeys to China," Dennis Chang, executive vice president and division president for Greater China at Mastercard, said in a statement.
A week later, an executive from Tencent said at a forum that the company would open wider its WeChat Pay system to international card organizations, such as Visa, starting in July.
"With the increasing exchanges between China and the international community, China will host more large-scale international events and competitions," said Chen Qiru, vice-president of Tencent Financial Technology, at the World Economic Forum's "Summer Davos" meeting in Tianjin.
"Under the guidance and support of the People's Bank of China and other departments," Tencent is working to improve the mobile payment experience of foreign users in China, he said.