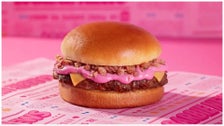 Everything is better in pink … well, at least that's what Barbie fans used to think before Burger King unveiled its latest menu item.
The meal features a "Pink Burger" — complete with a smoky pink sauce, cheddar cheese, crispy diced bacon and a brioche bun — "Ken's Potatoes" (aka Burger King's signature fries in a themed container) and a "Barbie Donut Shake," a milkshake topped with a doughnut glazed in pink icing, for dessert.
The meal that aligns with the surging "Barbicore" trend is only available in the South American country.
After Twitter users caught wind of the pink-powered meal, let's just say there were a lot more yikes than yays.
On the other hand, other users were pretty hype over the new pigmented sandwich, with one person even questioning if the meal will eventually touch down in United States locations.
Another poked fun at the pink sauce, nodding to last year when TikTok users were in a chokehold over a different viral "Pink Sauce," which contained dragonfruit.
It appears the multinational fast food chain has been toying with creating the most outrageous meals worldwide. Its Thailand locations recently rolled out a massive All-Cheese "Burger" with — you guessed it — nothing but cheese.
"Barbie," starring Margot Robbie and Ryan Gosling, hits theaters July 21.