Perhaps it's fitting that the two episodes of "And Just Like That" Cynthia Nixon directed this season contain a lot of classic elements of the original "Sex and the City" series.
In Episode 5, several of the characters have plotlines involving dating adventures (and misadventures). While absentmindedly walking in a bike lane, Carrie (Sarah Jessica Parker) slams into a bicyclist, played by guest star Peter Hermann. After accompanying him to get his injuries treated at an urgent care clinic, Carrie starts seeing him casually — only to find he's practically married to his job and his annoying business partner. Meanwhile, Seema (Sarita Choudhury) and Nya (Karen Pittman) each successfully pick up men at a bar — though in Seema's case, the man she goes home with unfortunately has some, uh, issues in the bedroom.
"When the women go to the bar to try and find men, that felt like old-time 'Sex and the City,' the girls out on the prowl. That was really fun to do," Nixon said in a recent interview.
Best known for playing the iconic Miranda Hobbes, Nixon pulled double duty and stepped behind the camera for this week's and next week's episodes. The latter is similarly a fun episode, taking place "in this tremendous snowstorm — but with fashion, head to foot," she said, referring to how several of the characters wear some impressive outfits while heading out in the middle of a blizzard.
The pair of episodes mark Nixon's second turn in the director's chair on the series. (TV and film writers, including those who worked on "And Just Like That," are currently on strike over more equitable pay and working conditions in the streaming era.) Nixon, who also serves as an executive producer, previously directed an episode last season, in which Carrie and Seema attend Seema's family's Diwali celebration. Directing is yet another chapter of Nixon's acclaimed career, in addition to her many decades as an actor, which has included winning two Emmy Awards (one for playing Miranda) and two Tonys. Off-screen, she's a longtime progressive activist and ran for New York governor in 2018.
Prior to directing TV, Nixon began directing theater about a decade ago. The idea to direct television came from Parker and showrunner Michael Patrick King in 2020, when the two first started to discuss teaming up again for what became "And Just Like That."
"I think when we were considering whether to make a new show, a sequel show to 'Sex and the City,' it was one of the things that Michael Patrick King and Sarah Jessica talked to me about, that they would love to have me come and direct," Nixon said. "And honestly, it was very terrifying, but it was such a gift. It's hard to imagine a better gift because as scary as it is to direct for the first time on television, to have it be amid this group of people that I love and trust so much, and they love and trust me, and that they just had such a vote of confidence in me that I felt like they were, frankly, my own parents rooting for me."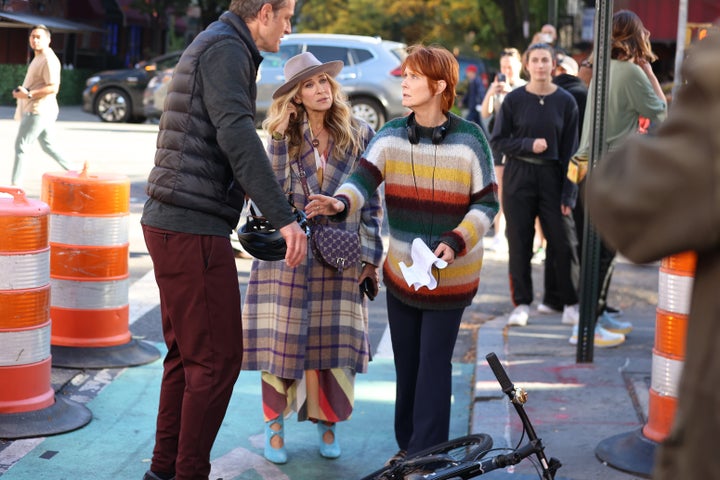 To prepare, Nixon took a class for first-time TV directors offered by the Directors Guild of America — and found herself in great company. "Laura Linney and BD Wong were both in my class, and there were a number of actors that were first-time directors, and then there were also a number of writers that were first-time directors," she said. "So it was a really fun group and it was just a terrific class."
She also got some pointers from longtime TV director Michael Engler, who directed episodes of the original "Sex and the City." Engler is now a director and executive producer on Nixon's other HBO series, "The Gilded Age." "He was really lovely and he had me come to set a few days when I wasn't working, and he just talked to me about camera angles and directorial decisions," Nixon said.
Having been an actor since she was a kid, Nixon has worked with many acclaimed directors over the decades. Recently, she attended a cast reunion marking the 40th anniversary of "Amadeus," directed by the late Miloš Forman.
"Some of us traveled to Prague to commemorate it. And I have to say that Miloš Forman, for me, was my favorite film director that I ever worked with. And he was so great. He always felt like he was in it with you, and he gave you so much direction, which I really, really like," she said. "But also, he would always yell at Murray Abraham — who was playing Salieri — he would always yell: 'Stop acting!' And I think it's why his films endure so well, is that the performances are not over the top. They're just very, very, very real and grounded. And that's something that I've always sort of strived for: If you can make the audience believe that you are the person and going through what the person is, that's the whole ballgame."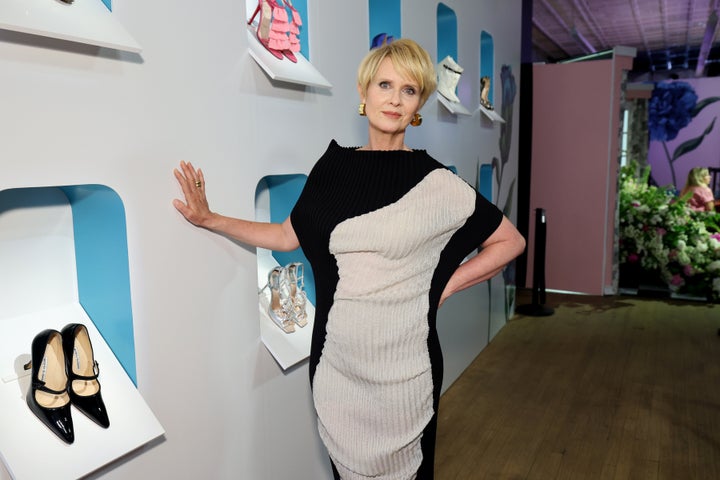 With these episodes under her belt, Nixon says she's eager to direct more.
"It's very challenging, and it's always a challenge. But it's so, so gratifying, particularly when you're working with actors and art directors and directors of photography that have this much skill," she said. "What you really just need to do is make sure you are empowering all of these artists to do what they can do best, because in a certain way, you're just there directing traffic and letting them do what they do."
"And Just Like That" airs Thursdays on Max.