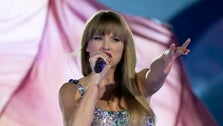 Taylor Swift changed the lyrics in her new version of "Better Than Revenge," removing the misogynistic line "She's better known for the things that she does on the mattress" and replacing it with "He was a moth to the flame, she was holding the matches."
After Swift said in 2019 that she wasn't given the opportunity to buy back her master recordings, she's been re-recording her first six albums and putting each out as "Taylor's Version." On Friday, she released "Speak Now (Taylor's Version)," the re-recording of her third studio album, originally released in 2010.
When Swift first released the album, its song "Better Than Revenge" gained attention for misogynistic lyrics about a woman stealing another woman's boyfriend.
"The song 'Better Than Revenge' is about a girl who a few years ago stole my boyfriend and I think she probably thought I forgot about it, but I didn't," Swift said in 2010.
In 2014, Swift told The Guardian that she was 18 years old when she wrote that song.
"That's the age you are when you think someone can actually take your boyfriend," she said. "Then you grow up and realize no one take[s] someone from you if they don't want to leave."
This isn't the first time an artist has had to wrestle with their misogynistic earlier work. In 2018, Paramore announced that they would no longer play "Misery Business," a song similar in nature to Swift's "Better Than Revenge." In "Misery Business," lead singer Hayley Williams, who was 17 when she wrote the song, sings, "Once a whore, you're nothing more/ I'm sorry, that will never change." Since 2022, Paramore has added the song back to the setlist.