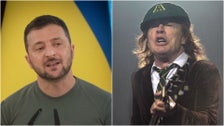 The topic of music came up after Burnett asked Zelenskyy if he's ever able to do anything for himself as he leads the nation during its war with Russia, which invaded Ukraine in February 2022.
"Are you ever able to take a minute to read or to listen to music or something to sort of give yourself that moment?" Burnett asked.
Zelenskyy said it's important to have quiet moments by himself and explained. "Alone I can be with music or with a book, and early, early in the morning when there are no sounds," he said, later adding that "the music helps."
Burnett then asked what music he likes.
"I like AC/DC. And Ukrainian music ― of course, I like Ukrainian music a lot, because Ukrainian, that's [my] native language," he said. "That's why you understand not only music, you understand the words and et cetera. AC/DC, I don't understand all the words. … I like [the] energy of AC/DC."
Zelenskyy also name-dropped Eric Clapton and Guns N' Roses before joking, "Maybe it's too old music."
Zelenskyy said that working out that music at 6 or 7 in the morning "gives you energy for all the day."
You can see the exchange below.
Neither AC/DC nor Clapton commented on Zelenskyy's shout out, but Guns N' Roses was happy to find out he was a fan.